The 8 tango steps


First of all, but only for fill your "crazy wishes" (ganitas locas) of dance Tango, here is the sketch of the eight basic Tango steps. It's a universal statement that if you can do this eight steps you can dance Tango.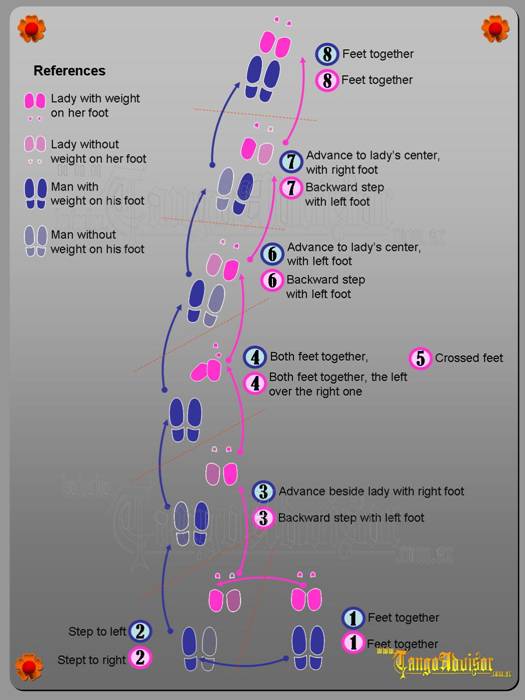 MOREOVER, we show you in this video, our best Tango Teachers dancing a whole Tango with only the eight steps, but the "trick" is that they are using something else: The Feelling, The Conection.

                        

Now that you have seen them, allow Tango Advisor® to tell you that is absolutelly unnecessary that you memorize, print and then do infinit efforts to repeat them mechanically.

The eight steps are simple, but easier is to feel, for then understand, and in consequence, to flow trought that steps. We are not talking about an iniciatic process of "tibetanization" of Tango, we are not going to ask you to dance the eight steps over red-hot coal, neither that you levitate at the sound of an accordeon
We ask you to forget for a moment about this steps and that first understand and live that the Tango essence is in the Hug, in the conection, far away the chauvinist methaphores existing arround Tango.

    
The only and real imperative of Tango, is to connect with the other, to give him/her their times, is an asking and waiting for an answer, for then, and only then, to dance. The Man proposes, asks, and the Lady answers, only then they move, and when this silent dialogue appears, is easy to dance, and look from outside, it's easy to see.

Tango is danced because it is felt, the sensation of Tango is the most far from technique, is to flow invaded by music. This is reached trough feelling the other and the melody, and then, flow-dance.
Tango Advisor® strongly believes in the "Felt Tango Method®", created and developed for people with standard skills in reasonable time could enjoy the Tango, reaching the eight steps at the end of the class, in an armonic and fluent way, with a sensation of Tanguerean placidness that you will never forget. See More

The "Felt Tango Method®", was developed by the Teachers Carlos Roberto and Marcela Salgado from El Taller de Bucarelli

                       




(Tango Lessons)





_______________________________________________________________________

Contact me by form

 e-mail 

 or chat 

 
_______________________________________________________________________

About me
Recommend this site
_______________________________________________________________________
Suggested Tango Shows

Tickets with discount Milonga
Tango funny (This is a really complete site, Enjoy it!)Lessons 
SITE MAP

the tango in buenos Aires is very interesting, know all about tango in buenos aires, meet the tango with all its history enjoy the best tango shows, buy tango show tickets with discount, find the best tango music, lean to dance tango, enjoy your tango lessons, do tango clinics, find the best tango shoes, come to the milonga, see the milonga lista and the milonga highlight, learn to dance in the milonga, live the milonga, tango, tango tickets, tango show, milonga, tango dinner show, tango lessons, buenos aires, tango argentino, carlos gardel, tango show discount, clases de tango, entradas para tango, descuentos a shows de tango, classes de tango, historia del tango, tango history, tango shoes, tango special shoes, tango cd's, carlos gardel, the tango in buenos Aires is very interesting, know all about tango in buenos aires, meet the tango with all its history enjoy the best tango shows, buy tango show tickets with discount, find the best tango music, lean to dance tango, enjoy your tango lessons, do tango clinics, find the best tango shoes, come to the milonga, see the milonga lista and the milonga highlight, learn to dance in the milonga, live the milonga, tango, tango tickets, tango show, milonga, tango dinner show, tango lessons, buenos aires, tango argentino, carlos gardel, tango show discount, clases de tango, entradas para tango, descuentos a shows de tango, classes de tango, historia del tango, tango history, tango shoes, tango special shoes, tango cd's, carlos gardel, the tango in buenos Aires is very interesting, know all about tango in buenos aires, meet the tango with all its history enjoy the best tango shows, buy tango show tickets with discount, find the best tango music, lean to dance tango, enjoy your tango lessons, do tango clinics, find the best tango shoes, come to the milonga, see the milonga lista and the milonga highlight, learn to dance in the milonga, live the milonga, tango, tango tickets, tango show, milonga, tango dinner show, tango lessons, buenos aires, tango argentino, carlos gardel, tango show discount, clases de tango, entradas para tango, descuentos a shows de tango, clases de tango, historia del tango, tango history, tango shoes, tango special shoes, tango cd's, carlos gardel, aprenda los ocho pasos basicos del tango, tango eight steps, where to learn tango, where learn the eight steps of tango, donde aprender los ocho pasos basicos del tango