Tango Porteño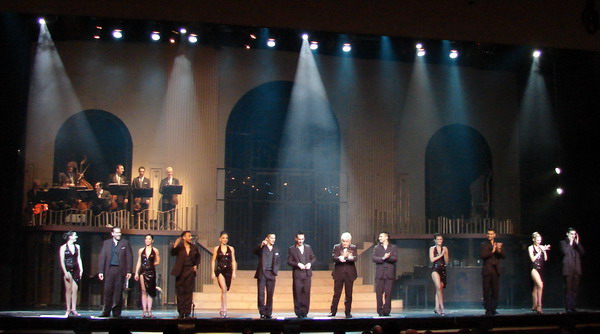 The largest Tango chorus line and orchestra at Tango Porteño Show in Buenos Aires





Tango Porteño Buenos Aires, the largest tango show in town presents its new Tango show "Bailando Tango" (Dancing Tango) where it combines the best traditional Tango with an unrivaled display of music hall and Stage Tango.

Rates(Book from here with discount!)

Ticket Show:           USD  45,90*
Dinner Show:             USD   84,90*
Execut Dinner Show: USD  94,90*
VIP Dinner Show:        USD 129,90*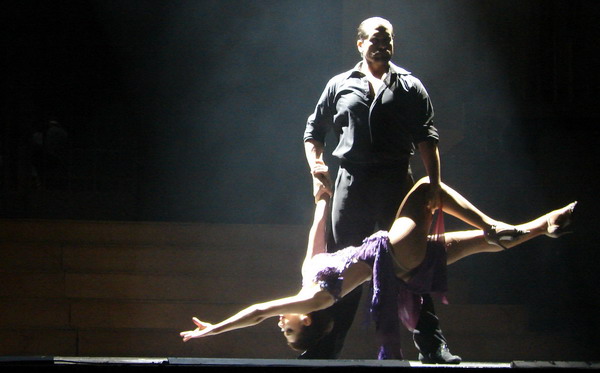 The passion of Tango at Tango Porteño Show in Buenos Aires

Free Round Transfer from/to downtown, Recoleta and San Telmo hotels
FREE OPTIONAL TANGO LESSON FOR ANY DINNER TICKET!!
*Get this special rate and free round transfer to the place instead of the standard free round transfer!
Ask terms and conditions. Hurry up! Limited seats!



Basic Information:
Schedule: 8.30 pm dinner, 10.10 pm show
Pick up: Free Round Transfer from/to downtown, Recoleta, Palermo and San Telmo hotels
Duration: 1,30 hours
Payment in: USD, Euro $Arg, Cards
Capacity: 900 seat people
Distance between tables: Optimum for dinner and show, individual tables
Orchestra: 7 musicians on stage, the largest Tango Orchestra
Singers: 1
Dancers: 12





Suggested Menu at Tango Porteño Tango Show:
Traditional Argentine turnovers (empanadas) filled with knife-cut beef.
Onion and challot cream soup.
Grilled Angus baby with a side of rustic potatoes.
Assortment of traditional Porteño desserts.

Customer references:
"I never imagined there was such a fantastic show here in Buenos Aires. Food was really great"
Dan Hodgings, Tampa, Usa
"Nice show, we took advantage of the free tango lessons, we got fun and we also dance, we really enjoyed a nice time there, the dinner was excellent!
Madeleine, Los Angeles, Usa
Starters
Empanadas (local meat pie) of knife cut beef with green olives.  
Rolls or ham with cheese cubes with a bouquette of ciboulette with green and potatoes with mustard cream.
Cream soup of onions shallots and leeks with farm bread and parsley leaves

Main Courses
Grilled chorizo beef (iconic Argentinean beef) with rustic potatoes, cherry tomatoes and provolone cheese.
Chicken breast filled with bacon and arugula, with caramelized sweet potatoes, greens and lime with rosemary seasoning.
Bondiola (Baked pork cut) with grilled potatoes and cherry tomatoes, red pepper and provolone cheese.
Fetuccinnis at Italian style with basil cream, joined with eggplant, pepper and chestnuts.

Desserts
Sampling of typical Porteño desserts: Home made flan with dulce de leche, duo of cuartirolo cheese and sweet potato jam, gelato of dulce de leche with crusty cacao and dry oranges.
Bitter chocolate mousse with rice with milk and praline.  
Bavaroise of white torrontes wine from Cafayate with raspberry jelly over pistaccio base with caramelized apples and vanila with anise. *



A Tango couple at Tango Porteño, Tango Show beside the Obelisk

Vegan Menu
Appetizer
Salad of roasted tomatoes, roasted pumpkin cubes and mix of
seeds

Principal
Eggplant lasagna with tomato and basil

Dessert
Plate of variety of fruits

Included Beverages:
Wine
Beer, sodas, mineral water
Coffee

*Some items are included only in Vip Menu

About the place and the show:
Tango Porteno Buenos Aires, The largest tango house in Buenos Aires is located meters from the famous Porteño Obelisk and is an icon of Tango Porteño. The new show called "Bailando Tango" (Dancing Tango) makes a very balanced combination of traditional Tango and stage Tango, in which takes advantage of the huge stage space to set up a show with a Buenos Aires Music Hall style.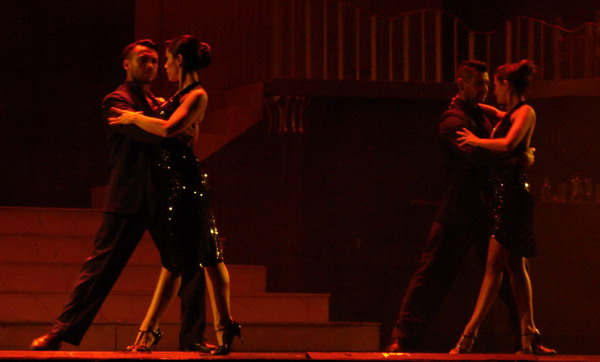 Tango couples at Tango Porteño, Tango Show in Buenos Aires

With a choreography by the internationally recognized Mora Godoy, the new Tango show of Tango Porteño Buenos Aires ventures successfully into traditional Tango, a style that Godoy manages with the same ease with which he manages the stage Tango that consecrated her. The essence of the show consists on the balance of both styles with a series of stories that instead of being strung together aim to reflect the human feelings; mainly love, passion and jealousy, with touches of humor and a lot of sensuality. The show takes advantage of a generous stage in two levels that allows the elevated orchestra to be located up, in order to develop the dance on a stage that is by far the largest in the city. The singer and the main dancers also take advantage of the vast staircase that allows them to move in both planes and make impressive entries on stage.

Both styles of Tango are seen in duets and group dances at Tango Porteño Buenos Aires. The focus of the duets is essentially sensuality and passion, sometimes the duet grows into a trio to stage the jealousy, so present in Tango. The group choreographies incorporate humor without abandoning sensuality. They do not bet on forced symmetry but on showing different dances and figures at the same time.

The beauty of the dancers is to be highlighted, the women who are tango and "morochas" (brunettes) in the best tango style and the men with the corpulence and virility of the "malevo", a classic tango character.

The orchestra is a septet that comfortably handles all the styles of Tango in the repertoire.

The Show of Tango Porteno Buenos Aires is one of the few that incorporates a gaucho show, where you can see the main skills with malambo footwork, boleadoras and bombo (boleadoras is an old aboriginal weapon, bombo is a big drum).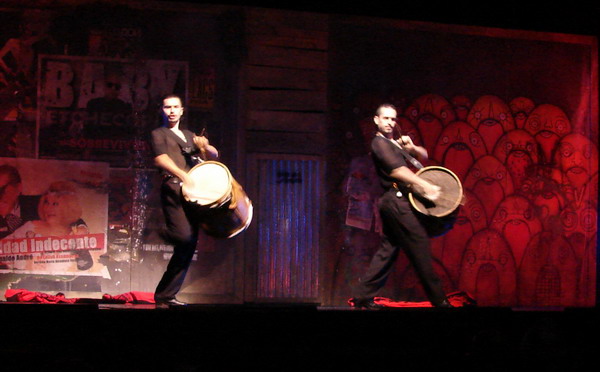 Folklorical Gaucho Show at Tango Porteño, Tango Show beside the Obelisk

The menu of Tango Porteño Buenos Aires is generous and has three steps, among which the bife de chorizo (The star of the Argentinean beef), the bondiola (pork cut), the asparagus soup and tasting of typical desserts stand out.

Tango Porteño Buenos Aires, the Tango beats in the center of the city.








 (El Querandí)





_________________________________________

About me
Recommend this site     
_________________________________________

Suggested Tango Shows 
Tickets with discount  Milonga
Fun Tango Lessons 
Milonga
SITE MAP (This is a really complete site, Enjoy it!)
..