El Viejo Almacén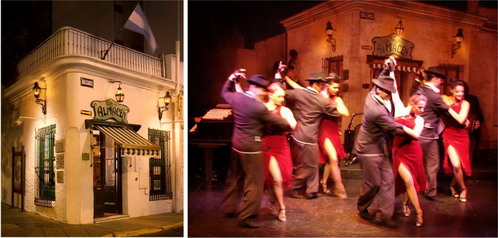 Viejo Almacen Tango Buenos Aires was the first in open in Buenos Aires. Since 1969 is the most classic show in town, on its stage paraded the best singers and dancers. It still bringing its Traditional Tango Show structure with a folkloric touch. Check more and do your booking!

Rates (Book from here with discount!):

Ticket Show:                                   USD    69,90* 
Dinner Show: USD 134,90 Now  USD   89,90* 
VIP Show:                                        USD  89,40* 
VIP Dinner Show:                           USD 134,90* 

Round Hotel Shuttle Included from Palermo, Downtown, San Telmo and Recoleta Hotels. I can help you in case of staying in an appartment.
*Get this special rate and free private transfer to the place instead of the standard free transfer!
Ask terms and conditions. Hurry up! Limited seats!





Basic Information about El Viejo Almacen Buenos Aires Tango Show:
Schedule: 8,30 pm dinner, 10.10 pm show
Pick up: Free, from 7.30 to 8 pm for dinner, from 8.30 pm to 9 pm for only show.
Duration: 1,40 hours
Payment: $Arg, Card, US$, Euro
DISCOUNT: AVAILABLE
See prices scrolling up
Capacity:  250 seat people (it's and antique theater)
Distance: Optimum for dinner
Orchestra: 5 musicians on stage
Folklore Group: 5 musicians on stage
Singers: 2
Dancers: 8.



Suggested Menu:
Bruschettas of  cold cuts
Chorizo beef with rustic potatoes
El Viejo Almacén cake/ Chocolate mousse sprinkled with coconut (See at the bottom all the menu, tipical food included)

Customer references for El Viejo Almacen Tango Show:
"I went there for the tango show, I thought it was a good idea to accept the offer and have dinner there too. The show was excelent."
Fabs, USA.

"Service is excellent, the ambient was cool. Food was delivered fast. It's a place to recommend. The show coloured and typical."
Gisella, Buenos Aires.

About the place and the show:
Since I was a child I listen talking in my house about El Viejo Almacen in San Telmo. It was the first Tango Show in Buenos Aires and of course, we grew with the certain that the Tango itself was there, in that little house from 1769, which was sailor's inn (The river was beside it!), customs, hospital, harborage for nostalgic czarist Russian, and finally Tango House founded by Edmundo Rivero, one of the top five Tango singers. Loyal to its tradition, the show of El Viejo Almacen renovates year after year, but keeps all the recipes of the Typical Tango Show.

The place is small but not intimate; it keeps the traditional Tango Show format. Anyway the main characteristic of it is that the dancers must transit trough the public of the second floor bringing a accomplice sensation of backstage.

A couple of Tango singers -one of them is Hugo Marcel, who sang with all the important Tango orchestras and is literally singing since his birth- transits well known tangos, although the guest star is the chorus line. Four couples are dancing at the show tango almacen on a little stage comfortably from the group plays to the couple solos -lots of sensuality-, travelling all the Tango styles and bringing beautiful Tango "postcards" to the audience.

There is a quintet at Viejo Almacen tango Buenos Aires leaded a bandoneonist (accordionist) who sets a fast rhythm to the songs; we must remark the obvious joy they have when they play. When the folkloric group does his set, you will feel the energy increasing song after song, hit after hit in a such a small place running the public to amusement

About the dinner, we can highlight the bruschettas of  cold cuts for appetizer, the chorizo beef with rustic potatoes and for dessert in addition to the chocolate mousse, the Viejo Almacen cake, whole a classic from this place.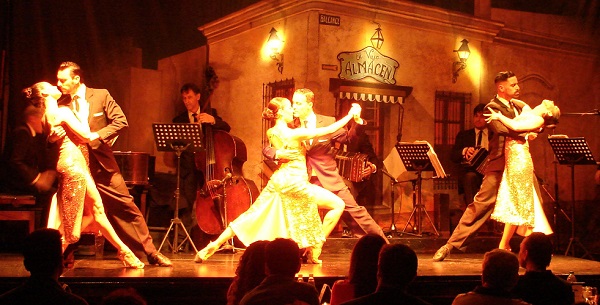 Full Menu*:

Hot appetizers
- Couple of meat empanadas
- Creamy Leek Soup with croutons and parmesan cheese
- Prawns cream soup with Corn and Chives*
- Toast with Salmon and smoked Cheese in a melb toast with shot of Shrimp cream*
 
Cold appetizers
- Salmon and cold cuts bruschetas, with pate and reduction of basil
- Rolls of raw ham with cream cheese, arugula and candied tomatoes
- Serrano ham with Port, Mozzarella pearls with cream of nuts and Roquefort, watercress and fresh Tomatoes*
- Savory Cheese Cake with ham chips with sautéed olives, mushrooms and arugula*
 
Main Course

- Steak of sirloin with leafy greens and spicy crunchy potatoes
- Involtini capresse for chicken, dressed with potatis with olive oil and vegetables
- Fish of the day with vegetable and cheese cottage with English potatoes and cream of spinach.
- Ravioli of ricotta and cheese with typical mediterranean sauce (tomato, green and black olives and chives)
- Spaghetti with tomato fondue
- Salmon in Eastern sauce reduction; Courgette stuffed with vegetable Brunoise and gratin portobello Mushrooms and steamed Potatoes with fresh cilantro*
- Tenderloin done at Malbec, with sweet potatoes and leafy greens*
- Ballotine of chicken with dijon Mustard and fine herbs Puree*
- Penne Rigatte with candied tomato and smoked turkey Breast joined by fresh spinach and parmesan Cheese*
- Sorrentinos (big ravioli) stuffed with selected Cheeses and Ham with cream Sauce, tomato concasse, mushrooms and scallions*

Vegetarian Menu
Souffle of cheese with sauce bechamel, leafy greens and dried tomatoes
Wok of vegetables and rice
- Vegetable Pave, green vegetables with curcuma oil and parsley
- Risotto with vegetables
- Squash quiche on a mattress of leafy greens and leek brittle*
- Rissotto of portobello mushroom and diverse vegetables*





Desserts
- El Viejo Almacén cake
- Flan topped with caramel glaze with cream or dulce de leche (milk jam)
- Fruit salad
- Cream and Dulce de leche ice cream with dulce de leche (caramel)
- Chocolate mousse sprinkled with walnuts praline
- Bavaroise of Dulce de leche and Chocolate with sweet almond sauce*
- Tower of fruits with "Bariloche cream" strawberries, cream and compote of pear with blueberry jam*
- Orange mousse with chocolate and baileys sauce*
- Pie of sable dough (a kind of crispie pastry) with patisserie cream (type of custard) and ice cream with sauce of red berries*

Beverages
Trapiche wines Malbec and Chardonnay, Mineral Water, Soft Drinks and Coffee. VIP upgrades to reserve wines

*Some items are only in the Vip option






 (El Querandi)





_________________________________________

About me
Recommend this site     
_________________________________________

Suggested Tango Shows 
Tickets with discount  Milonga
Fun Tango Lessons 
Milonga
SITE MAP (This is a really complete site, Enjoy it!)