Dance Workshop
El Taller de Bucarelli® and Tango Advisor® manages this activity.

This Tango Workshop is targeted to

- Tango Lovers who wish to increase and go deeper in their relationship witn this Dance and with theirselves
- Professional Tango Dancers that are looking to inmprove their technique
- Tango Teachers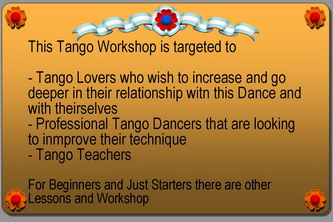 The Couple as a Dance Unit
Just as Carlos and Marcela from El Taller de Bucarelli® lives, to work focused the couple as a Dance Unit, is one of the bigest challenges of Tango, because we start dancing from ourselves to reach "the share", as in the physical as in the spatial in the dance with the Other.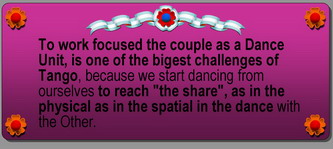 To talk about the Couple as a Dance Unit, doesn't delete the individuality, but ask us something new, that is more than the addition of the two people that are meeting, because between them, "something new is being generated"

The treatment of this "something new" is the core of the Workshop.

The search, the discovery, and the expression are dimensions of one unique reality when a Tango is danced.
This Workshop is also an Active Learning Group, because the participants, doesn't get all the information previously elaborated as it is usually done, but they search and research by their own in an enviroment of mutual colaboration.

Content Program:
A) The Meeting for the Dance
B) The own axis and the shared one
C) The common space as Dance Space
D) The Hug and the conection: The Dance's Language
E) The Role of carrying: position, hug, and proposal  in the Dance
F) The Role of following: position, receptiveness and answer/sensibility/reaction
G) Harmony points and enjoying in the Dance: Sensitive Tango®

                       
Schedule:
Start Summary:          3:45 pm
A & B points:             4:00 to 5:00 pm
C & D points:             5:00 to 6:00 pm
Break:                       6:00 to 6:30 pm
E & F points:             6:30 to 7:30 pm
G point:                    7:30 to 8:30 pm
Schedule: From 3:30 a 8:30 pm
ADRESS: Bucarelli 1979 (Buenos Aires City, transportation provided out of rate)
RATE: US$ 139 per Pareja, US$ 70 single
PAYMENT: PayPal in this site/cash in US$, Euro or $arg at the place before start (Anyway previous booking is required)

The WorkShop will be done with equal amount of ladies and men, (of course is Gay Friendly) the booking will be done by couples or they will be created between people that was booked alone. It is required a minimun of previous knowledge. There will be done traning and warm-up excersises, and elongation. The rate includes afternoon snack.

____________________________________________________________________________

The following PayPal button is for do reservations AFTER get some human comunication with me or the teachers, please don't buy anything without previously agree with us the schedule and availability. We want you happy!

____________________________________________________________________________

Contacts:
Phone: 155-954-4977 (Pablo), 153-684-4526 (Carlos/Marcela)
USA: +54 91 15 9544 977(Pablo), +54 91 153 6844 526 (Carlos/Marcela)
Overseas: 0054 91 15 9544 977(Pablo), 0054 91 153 6844 526 (Carlos/Marcela)
Contact me by form

 e-mail 

 or chat 



Next  page (Tango Lessons)
Suggested Tango Shows  (It is not Milonga)
Tickets with discount 
Milonga
Tango funny Lessons
SITE MAP (This is a really complete site, Enjoy it!)
About me 
Recommend me  

tango buenos aires,  7th tango dance world cup 2009 buenos aires, tango festival and dance world cup buenos  aires, the 8 eight tango steps, tango lessons buenos aires, tango classes buenos aires, learn tango buenos aires, funny tango classes buenos aires, buenos aires tango lessons, tango lessons buenos aires, buenos aires tango classes, tango classes buenos aires, buenos aires tango show, tango show buenos aires, buenos aires milonga, milonga buenos aires, argentina tango, argentina tango buenos aires, argentina tango gardel, argentina tango show, argentinean tango, argentine tango dancing, best argentine tango,  best buenos aires tango, buenos aires + tango + tickets + discount, buenos aires tango dinner show, buenos aires tango dinner show + discount, buenos aires tango shows, carlos gardel tango, dinner tango show,  milonga tango, senor tango, senor tango buenos aires, tango, tango + where to go + buenos aires, tango argentino, tango buenos aires, tango buenos aires show, tango dinner show buenos aires, tango dinner show buenos aires + discount, tango events, tango gardel, tango music, tango porteño, tango show, tango tickets, tango vip, tango where to go buenos aires, tickets tango com, esquina carlos gardel, rojo tango, el querandi, viejo almacen, milonga, tango lessons, tango classes, tango tour, where to learn tango + buenos aires, where to learn tango, easy tango lessons, easy tango classes, argentinean tango, the milonga, milonga buenos aires, tango music, tango singers, El tango en buenos Aires es muy interesante sepa todo sobre tango en buenos aires, conozca el tango de Buenos Aires con toda su historia, disfrute de los mejores shows de tango, adquiera tickets de tango con descuento, encuentre la mejor musica de tango, aprenda a bailar tango, disfrute de sus clases de tango, haga seminarios de tango, encuentre los mejores zapatos de tango, venga a la milonga, vea el listado de milongas y el destacado de milongas selecionadas, aprenda a bailar en la milonga, viva la milonga, tango, tango tickets, tango show, milonga, tango dinner show, tango lessons, buenos aires, tango argentino, carlos gardel, tango show discount, clases de tango, entradas para tango, descuentos a shows de tango, clases de tango, historia del tango, tango history, tango shoes, tango special shoes, tango cd's, carlos gardel, El tango en buenos Aires es muy interesante sepa todo sobre tango en buenos aires, conozca el tango de Buenos Aires con toda su historia, disfrute de los mejores shows de tango, adquiera tickets de tango con descuento, encuentre la mejor musica de tango, aprenda a bailar tango, disfrute de sus clases de tango, haga seminarios de tango, encuentre los mejores zapatos de tango, venga a la milonga, vea el listado de milongas y el destacado de milongas selecionadas, aprenda a bailar en la milonga, viva la milonga, tango, tango tickets, tango show, milonga, tango dinner show, tango lessons, buenos aires, tango argentino, carlos gardel, tango show discount, clases de tango, entradas para tango, descuentos a shows de tango, clases de tango, historia del tango, tango history, tango shoes, tango special shoes, tango cd's, carlos gardel, El tango en buenos Aires es muy interesante sepa todo sobre tango en buenos aires, conozca el tango de Buenos Aires con toda su historia, disfrute de los mejores shows de tango, adquiera tickets de tango con descuento, encuentre la mejor musica de tango, aprenda a bailar tango, disfrute de sus clases de tango, haga seminarios de tango, encuentre los mejores zapatos de tango, venga a la milonga, vea el listado de milongas y el destacado de milongas selecionadas, aprenda a bailar en la milonga, viva la milonga, tango, tango tickets, tango show, milonga, tango dinner show, tango lessons, buenos aires, tango argentino, carlos gardel, tango show discount, clases de tango, entradas para tango, descuentos a shows de tango, clases de tango, historia del tango, tango history, tango shoes, tango special shoes, tango cd's, carlos gardel, aprenda los ocho pasos basicos del tango, tango eight steps, where to learn tango, where learn the eight steps of tango, donde aprender los ocho pasos basicos del tango