Reveillon Night Cafe de los Angelitos Tango Show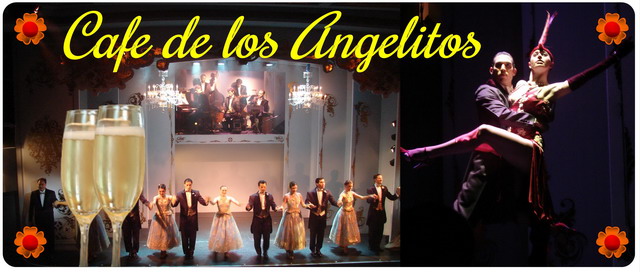 Price      USD 270           USD 249,90

Gala Party and Tango Show in New Year's night at Cafe de los Angelitos!
You will start your Year exactly where Carlos Gardel the most important Tango singer started his career! Café de los Angelitos prepared a distinguished Reveillon Gala Dinner for you dressing its awarded Tango Show with an upgraded Vip menu and a DJ party. Once you arrive, you will enjoy the welcome cocktail with selected snacks (see detail bellow) and cute wines, cocktails and Baron B Champagne. After the Tango Show, a wide menu dinner will be waiting for you always with the best wines of the country. At midnight, the New Year's toast and then, DJ party!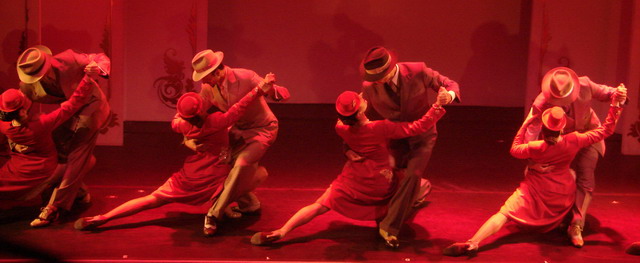 New Year's Schedule at Cafe de los Angelitos

8.00 pm          Transfers in from hotels
8.30 pm          Welcome cocktail
9.15 pm          Tango Show
10.15 pm        VIP Dinner
Midnight!        New Year's Toast with champagne
Until 3 am       Table with free desserts
                       DJ party
                       Transfers out from 1.00 am






Welcome VIP Cocktail

Beef tenderloin cured with fine herbs, with soft dijon mustard and Malbec wine
Grilled Pork sirloin with fig and honey sauce
Three citrics marinated Prawns
Shellfish Ceviche (mussels, clams, scallop and cockles)
Soy and dill sauce marinated Saumon
Chicken Ballotine
Quail escabeche in lime perfume
Smoked pheasant
Pineapple braised turkey
Smoked duck magret with mango sauce
Terrine Variety
Sweet potatoe and chocolate
Manioc (Cassava) and papaya
Broccoli and blue cheese

Variety of cheeses
Brie
Chevrotin
Gouda
Parmesan
Gruyere
Blue Cheese
Fontina
Provolonne
Mozzarella di Bufala

Variety of cold cuts
Serrano Ham
Italian Mortadela with pistachio
Bondiola
Cooked ham
Flowers
Small green leaves

Beverages Included at the Reception Cocktail
Bodegas' La Rural Wines:
Red: Rutini Cabernet –Malbec
Rutini Cabernet –Syrah
Rutini Cabernet –Merlot
White: Rutini Sauvignon-Blanc
Baron B Champagne
Water, sodas and beer



Reveillon Menu at Cafe de los Angelitos

Starters
Pink salmon and prawn ceviche with a compression of avocado and cherry tomatoes.
Crispy Philo with Duxelles of mushrooms and sautéed vegetables in Curry carrot coulis Tart of tomatoes, golden onion and cheese of goat.
Gravlax of salmon on toast of brioche and potatoes in emulsion of dill.
Onion and goat cheese tart with Genoese pesto.
Carpaccio of smoked deer on bruschetta's country bread and soft citrus cream.
Rustic guacamole with shrimps and crispy coconut prawn.

Principals
Sirloin strip steak Angus with rustic potatoes and onions caramelized.
Medallion of loin, burned tomatoes and gratin of potatoes in bordalesa souse.
Sweetened of lamb on ratatouille served in his juice.
Mediterranean chicken breast on a soft cream of spinach and Gratin of eggplant in a two cheese crust
Pink salmon in teriyaki sauce served with fine herbs rustic pure, cherry tomato and olives
Pumpkin, blue cheese and walnut ravioli in spinach dough with a three tomatoes sauce.

Desserts
Cointreau's chocolate mousse, Strawberry coulis and chocolate, praline nuts
"Yerba mate" and honey cane panacotta.
Caramel Bavaroise upon a cocoa bitter biscuit, red fruits sauce and chocolate ganache
Red fruits to the lemon grass and ice cream.

Beverages included at the Dinner
La Rural Wineries wine:
Red wine Rutini Cabertnet –Malbec
Red wine Rutini Cabernet –Syrah
Red wine Rutini Cabertnet –Merlot
White wine Rutini Sauvignon-Blanc
Sparkling and still water, soft drinks and beer







Payment and eventual refund

Due to the special characteristics of the event, payment must be done in advance and the partial refund of 80% is able to be done only until 48 hs before the event (6 pm of Dec 29th). You can do a safe payment via Paypal, just explore the many options and choose your best night in Buenos Aires!
For any other day the rates and conditions are the ones shown on the rest of the website.