Reveillon Night at Tango Show Tango Porteno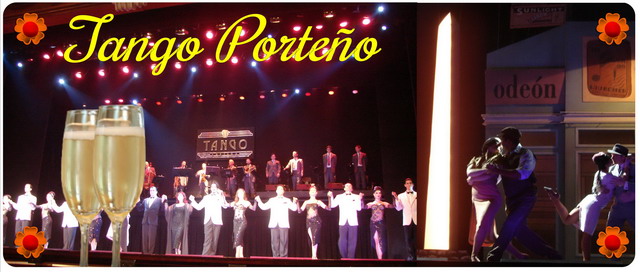 Price      USD 270           USD 249,90

Gala Party and Tango Show in New Year's night at Tango Porteño!
Tango Porteño is the biggest Tango Show of Buenos Aires and has ready a big New Year's Eve party! As soon you arrive in the free shuttle form you hotel you will be able to enjoy a Welcome Cocktail with a large variety of elaborated snacks (Check the menu bellow!) before the three steps dinner, always well paired with excellent local wines and soft drinks. Show will start on time and that vast stage (The largest in town) will be inhabited by the magic of Tango with the powerful orchestra and the big chorus line, ready to also dance in vertical walls. After the show, we will assist you to welcome the New Year and then we will do the Toast with cocktails and champagne. During the following DJ party, there will be a tasty table of sweets with a vast, delicious, line of cakes, puddings, and some salty snacks. The largest place for your greatest New Year!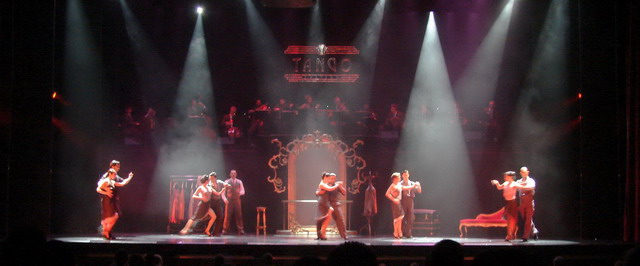 New Year's Schedule at Tango Porteño

8.00 pm          Transfers in from hotels
8.30 pm          Welcome cocktail
9.00 pm          VIP Dinner
10.30 pm        Colored Tango Show
11.30 pm        Getting ready for New Year's Toast!
Midnight!        New Year's Toast
                       Table with free desserts
                       DJ party
                       Transfers out from 1.00 am each 30 minutes






Welcome Reception

Mini bruschetta with vegetables with soy sauce´s reduction, boconchinos, tomatoes and crispy basil.
Bruschetta of shrimp and prosciutto, arugula and marinated tomatoes.
Mini beef empanadas cut by a knife
Mini smoked ham and mozzarella cheese empanadas.
Packages of spinach and parmesan cheese.
Reveillon Menu at Tango Porteño

Starter
Prosciutto di Parma flowers, mozzarella pearls, confitted cherry tomatoes and orchard leaves bouquet with tomatoes jam and citric vinaigrette.

Principals
Classic grilled loin medallion with Malbec sauce, rosemary scalloped potatoes and vegetable brochette.
Ravioli stuffed with Zuca and goat cheese and cream sauce with herbs, balsamic, thread and drops of fresh tomatoes.

Dessert
Porteño typical dessert tasting:
Creme caramel homemade custard, cheeses and confitures trilogy, creme-caramel ice cream on orange and cocoa crispy biscuit.

Beverages included at the Dinner
Rutini wines, La Rural Wineries
Champagne Chandon Extra Brut
Beer, soft drinks and waters
Coffee, tea and petit fours







SWEET TABLE
Jams, candies, pastries, puddings, Madrid's bread, dried fruits

Cakes
Lemon pie, strawberry pie
Chocolate mousse.
Cheese cake.
Apple pie
Rogel
Brownie cake.
Nuts mirror
Assorted ice cream tastes
Variety of sweet sauces
Colored mousse cups
Fruit skewers dipped in chocolate





Payment and eventual refund

Due to the special characteristics of the event, payment must be done in advance and the partial refund of 80% is able to be done only until 48 hs before the event (6 pm of Dec 29th). You can do a safe payment via Paypal, just explore the many options and choose your best night in Buenos Aires!
For any other day the rates and conditions are the ones shown on the rest of the website.