Reveillon Night at Rojo Tango Show


Price      USD 750           USD 699,90

Gala Party at Rojo Tango New Year's eve show!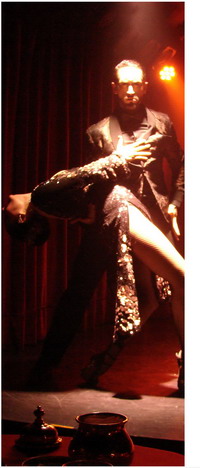 The great New Year's Eve at Rojo Tango at Hotel Faena is the most important gala of the year, with glamour, champagne and all the sophistication to receive 2018 in the best manner.

The New Year's Eve at Rojo Tango at Hotel Faena as every year is positioned as the most sophisticated event in Buenos Aires, opening multiple spaces within the hotel only for attendees. The circulation is allowed only for that night in two restaurants and three bars with cocktails and signature cocktails.

With the Rojo Tango New Year's Eve Show as the central axis, the party in the Faena will have the bars of The Library lounge (world famous) and the Poolbar, with free drinks throughout the night, also taking the space of the lobby, "La Catedral". The show of Rojo Tango New Year will have two plays for better comfort of the attendees and the dinner will be a vast buffet that alternates with the show.

For dinner, El Mercado and Bistro restaurants will be open for the New Year's Eve at Rojo Tango at Hotel Faena. In the ultrawhite restaurante El Mercado will be served dishes with the well known creativity of the Faena's kitchen, while in the Bistro Sur the creativity will reinforce a huge variety of typical Argentinean dishes.

All drinks and meals are absolutely unlimited at Rojo Tango New Year's Eve Show, and all transfers are made by private car.



Rojo Tango New Year's eve show schedule

Rojo Tango will set two shows and the timeline will vary according to which show you attend

8:30 PM   First show and appetizers
9:45 PM   Open house dinner

Attending to the second show
8:30 PM Open house dinner
9:55 PM second show.
New Year's toast and midnight party!
All the places will open with different proposals of music and shows
Open Bar (cocktails, whiskey, wine, champagne) DJ and dance

Private transfers in/out
Pick Up: From 8 pm to 9 pm
Return: Cars available from 1 am




Rojo Tango New Year's eve show Menu

Nikkei and Sea Food Station
Japanese Peruvian Food
Octopus done at olive oil
"Causitas" at Peruvian style
Tartar in scallop in miso sauce
Mixes of sushi and niguiris
Various Ceviches
Tiraditos 
Octopus Gravlax salad with crispy potatoes

The Cold cuts and Antipasti Station
Rotolos of mozzarella
Multiple options of salads, marinades and pates
Multiple options of seafood and fish in different styles
Multiple options of cold cuts and cheeses

The Main Courses
Black hake served in a compote of citrus fruits and aioli
Squid and vieyras in black rice
Braised lamb and mashed carrots in a reduction of Malbec wine

The Preparations baked in clay oven
Traditional meat pie (Empanadas) with knife-chopped beef
Humita (corn based dow) with braised lamb
Rustique potatoes in little iron boxes
Octopus with roasted peppers
Spiced rice
Truffled and gratinated Penne riggatti
Grilled vegetables
Graten potatoes

The Preparations on the embers
Sausages and Entrails
Ribs on metal cross
Farm raised chicken
Patagonic lamb
Shoat
Slow fire grilled beef loin
Lamb rack
Beef eye

Desserts
Flan with Dulce de leche (Argentinean Caramel)
Sambayón
Sager cake joined with red berries
Ginger cookies
Noel's Bush
Canolis
Various chocolates
Catalan style cream
Chocolate and whiskey ingot
Tiramisu
Charlotte of vanilla and apple

Beverages
Boheme Luigi Bosca Brut Nature
Gala 3 Luigi Bosca
Gala 1 Luigi Bosca
Water, sodas and beer







Payment and eventual refund

Due to the special characteristics of the event, payment must be done in advance and the partial refund of 80% is able to be done only until 48 hs before the event (6 pm of Dec 29th). You can do a safe payment via Paypal, just explore the many options and choose your best night in Buenos Aires!
For any other day the rates and conditions are the ones shown on the rest of the website.