Reveillon Night at Piazzolla Tango Show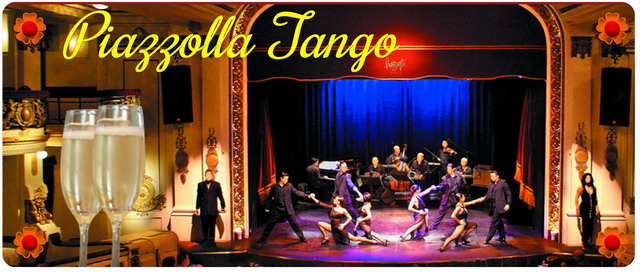 Christmas
Precio      USD 280           USD 249,90

New Year's Eve
Precio      USD 280           USD 249,90


The fun Christmas and Reveillon night at Piazzolla!
This traditional Tango House, offers an excellent program for New Year's eve. In addition to the Traditional Tango Show they bring, a Welcome with free cocktails, then an upgraded to VIP dinner, with multiple options detailed bellow, also including vegetarian a celiac choices. After dinner we will enjoy the traditional show (perhaps the World Champions 2015 will be there as they do many nights!) and after it, we will await for the Happy New Year with a table of free desserts, fresh cherries and champagne. After midnight, the fun goes on, more champagne, whisky and free cocktails, all over night in a party animated with DJ. There free shuttles to pick you up and to drive you back safe and happy to your hotel.



Christmas and Reveillon Schedule at Piazzolla
7.30 pm to 8.30 pm  Transfers in from hotels
8.30 pm to 9 pm      Welcome cocktail
9 pm to 10 pm         VIP Dinner
10 pm                      Traditional Tango Show
Midnight!                 New Year's Toast with champagne
Until 2 am                Table with free desserts, fresh cherries and champagne - whisky - cocktails
                                DJ party
                                Transfers out from 12.45 am until 2 am each 15 minutes





Christmas and Reveillon Menu at Piazzolla

Starters
Provolone cheese and arugula salad with dried tomatoes
Prawns with lentil sauce and cherry tomatoes
Burrata over a mattress of arugula and raw ham

Principals
Lomo in malbec sauce and potato gratin
Gratinated cannelloni stuffed with ricotta, spinach and walnuts with tomato sauce
Crut pink salmon with bacon and parmesan puree with saffron
Vegetarian-Vegan-Celiac:
Chickpea farinata
Baked spiced eggplant with soy bean salad, mint, cilantro, red onion pickles, caju chestnuts, raisins and raita sauce.
Kids Menu: Mini breaded beef loin with two kinds of mashed potatoes or pay frites
Desserts
Moist chocolate cake with white ice cream.
Panna cotta on passion fruit coulis and Patagonian fruits.
Tiramisu (classic Italian dessert) with a vanilla base embedded in intense coffee
Coffee liqueur and amaretto plus a soft mascarpone mousse.
Payment and eventual refund
Due to the special characteristics of the event, payment must be done in advance and the partial refund of 80% is able to be done only until 48 hs before the event (6 pm of Dec 21th / 6 pm of Dec 29th). You can do a safe payment via Paypal, just explore the many options and choose your best night in Buenos Aires!
For any other day the rates and conditions are the ones shown on the rest of the website.